Time and Time Again
The Grand Master of the universe
Part II
by GaryG
Amsterdam, November 16th, 2021—Chances are, if you have been collecting watches for any significant period of time, his name is well known to you. But I'm not assuming that everyone reading this article is a collector, or even a dyed-in-the-wool watch enthusiast. I meet many people in my watch-related comings and goings who aren't either aware, or fully aware, of Dufour and his work.
After all, he is a shy man, not keen to talk about his artful work of making exclusive on-demand wristwatches, who refuses to see reporters and the like. He just wants to work peacefully
in his farm studio in the Swiss Jura.

Nevertheless some has already been said, written, and recorded about Philippe Dufour. My Quill & Pad colleagues Elizabeth and Ian have both written at length on the man, he has appeared in videos and movies, and there is even a Japanese comic book about him.

Nonetheless, I have such deep respect for Philippe that I'd like to set out my personal views: first on why I believe that he is important to the world of horology, and second on why he is important to me as a person.

Let's get going. The five key descriptors I feel are critical to understanding Dufour's significance to the watch world are: foundation, tradition, innovation, perfection, and perpetuation.
Foundation
When I was a young instrumentalist, any trip to the music store or request for an audition inevitably began with the query, "Who's your teacher?" Whether in playing or composing, apprenticeship has long been a critical element of musical mastery, and the same is true of top-level watchmaking.
Haydn, in addition to influencing Mozart, taught Beethoven, who taught Czerny, who taught Lizst.

In the horological world, Charles Meylan schooled Kari Voutilainen; George Daniels influenced and inspired François-Paul Journe and worked closely with Roger Smith; and it was Gabriel Locatelli who passed along many of the critical secrets to Philippe Dufour.
Locatelli was prolific in his influence: over a period of years, he passed his knowledge along to many others, including Eric Coudray of Jaeger-LeCoultre Gyrotourbillon and Reverso Repetition Minutes fame and young horological superstar David Candaux.

Dufour and Locatelli had a close relationship that survived well beyond their times at Jaeger-LeCoultre. Prior to his untimely death in a motoring accident, Gabriel worked together with Philippe, and even built the Simplicity prototype that is Philippe's daily wearer.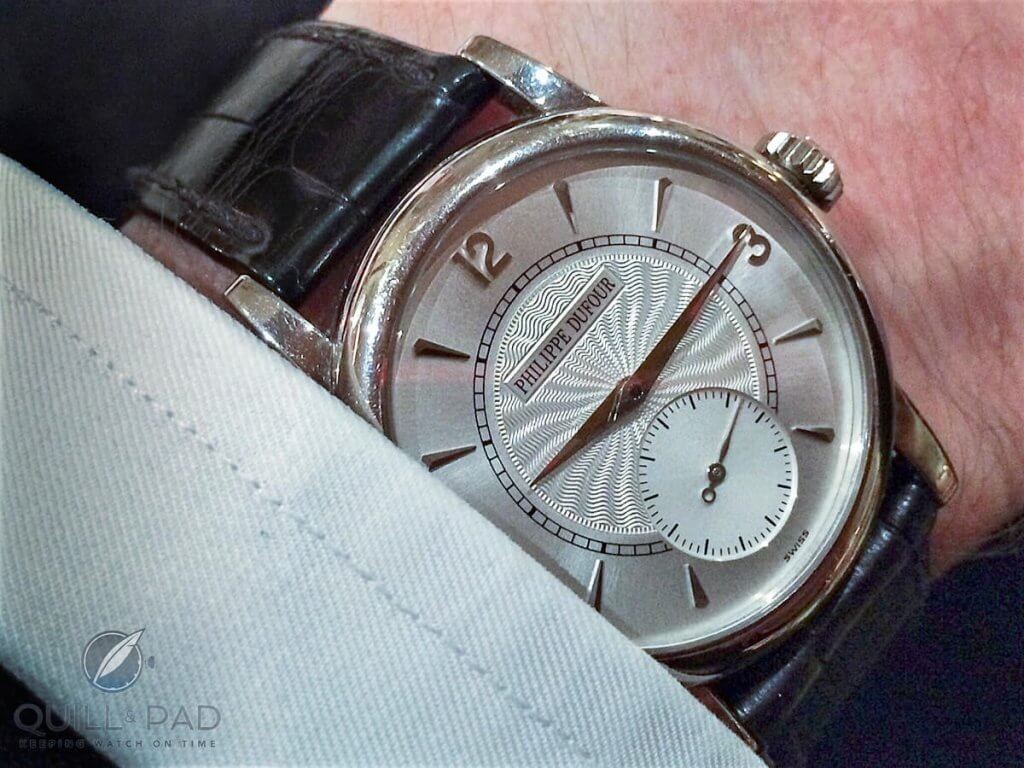 Here's that watch, seen on my wrist, what you can't see of course are the chills that were running down my spine.
Tradition
Another thing that Dufour has in common with many other great watchmakers is the time that he spent as a restorer of fine vintage timepieces. In doing so, he was able to learn the patterns distinguishing watchmaking traditions and even individual watchmakers from each other.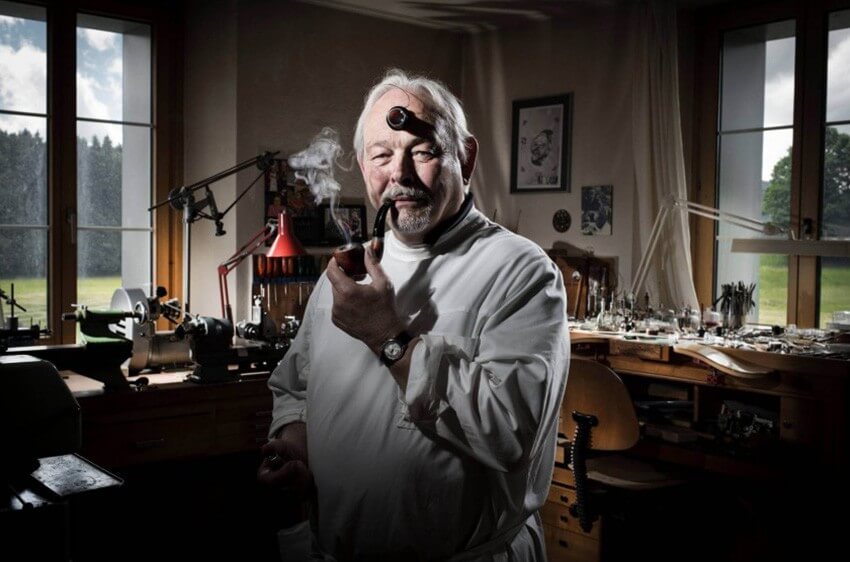 He also learned to identify a variety of ways of solving given problems, and, ultimately, to find his own desired form of expression based on the traditional movement architectures and artistic expressions of the Vallée de Joux from the period between 1850 and 1920.

Dufour 's work perpetuates, and extends, that great tradition.
Innovation

Dufour does not consider himself a great innovator; in fact, he often claims that there is "nothing new" in horology. Certainly, he has drawn inspiration from prior inventions. For instance, here's a photo of a student watch from 1933 that gives us a sense of the inspiration for Dufour's twin-escapement Duality.

But it would be dead wrong to say that Philippe has not brought innovation to his work. Among other things, he was the first to make a grande et petite sonnerie in wristwatch form and the first to make a dual-escapement wristwatch with differential.
He was also among the very first to use computer-aided design (CAD) tools – something that might surprise those who consider him old-fashioned – and he utilizes leading-edge methods such as spark erosion to manufacture raw components that he then turns into jewels with his deft touch.

Finally, he helped to drive business model innovation in watchmaking by having the courage to go out on his own as an independent. He wasn't the first independent, but along with George Daniels he showed the way for really top-rate watchmaking as a road to creative and commercial independence.
Perfection

At this point an anecdote: if you ever visit Philippe's workshop and look in the right spot, you will see a set of identical-appearing cylindrical plugs hanging on a board. I happened to ask what they were for, and here's the response.
The case maker is unable to make the interior circumference of the Simplicity case to the tolerance that I like. So, I use these cylinders, of slightly varying size, to identify the exact interior diameter of a given case, and I then machine the base plate of the movement to fit exactly inside."


For me more chills spill down the spine just trying to imagine the sheer level of commitment required to do this sort of precise matching of movement to case. Not to mention dozens of other things that I'm sure we don't know when there is a pretty good chance that they will never come to light.

The visible results are as near to perfection, in my opinion, as a hand-finished timepiece can be. There is obviously mastery of technique involved, but also a deep desire to apply that mastery.

At this level, to me, it's no longer just craft, but authentic artistic expression.

Philippe held our group of collectors spellbound this past January talking about some of the "secrets" of his craft: how when he files a part, both the file and piece must move in order for them to work together to create a perfect surface.

And how, when he uses a bow to polish a jewel sink, he can tell when it's perfect by the temperature of the polishing rod on his fingers.

Perfection, achieved at the intersection of knowledge, experience, and passion.
Gary G is a passionate and unique collector
End of Part II