Pablo Picasso's Creative lifeblood: The Change
Inspired by his muse Fernande Olivier
Part I
by Alaister Sooke
and Anton Foek

Amsterdam, August 18th 2021– It is likely that Picasso first started looking seriously at Romanesque art four years prior to his trip to Gosol, when a major exhibition of Romanesque and Gothic art opened in Barcelona, coinciding with a resurgence in Catalan nationalism.
A little over three decades later, in 1934, by which time Picasso was an international celebrity living permanently in France, the artist returned to Barcelona to visit the new National Museum (then known as the Art Museum of Catalonia), shortly before its official inauguration.
A newspaper covered the event, which proved to be Picasso's last visit to his homeland – after the rise of Franco, he never returned to Spain.
Passing from one room to another," the reporter wrote, "Picasso, before those incomparable fragments of early Catalan art, admired [their] power, intensity and skill … and he stated without hesitation that our Romanesque Museum will be something unique in the world, an indispensable resource for anyone who wishes to know the origins of Western art, an invaluable lesson for the moderns."
When asked how much Romanesque art meant to him, Miró used to tap the veins in his forearm
Throughout his life, as MNAC's exhibition reveals, Picasso amassed many books, postcards and photographs documenting Romanesque art, attesting to his enduring interest in the subject. In this, he was not alone. Joan Miró, for instance, another great modern Spanish artist, was also compelled by Romanesque art, which he studied as a boy growing up in Barcelona. When asked how much it meant to him, Miró used to tap the veins in his forearm. It was in his creative lifeblood.
What, then, was the "invaluable lesson" that Romanesque art taught both Picasso and Miró? According to MNAC's director, Picasso was drawn to the "simplicity" of Catalan Romanesque art: "It's a naive, very 'primitive' art," Serra explains. "For example, perspective is not used, and it is extremely schematic in the composition of the faces, which appealed to Picasso. It is also full of symbols – eyes, fires, fish – that represent other things."

"And there is another big link with Picasso in terms of the subjects: the violence, the dismembered bodies, the skulls, crucifixions, the presence of death. So, there are thematic links as well as stylistic ones."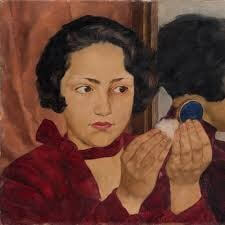 Elizabeth Cowling, emeritus professor of art history at the University of Edinburgh and curator of Picasso Portraits, an ongoing exhibition at the National Portrait Gallery in London, agrees: the aspects of Romanesque art that most appealed to Picasso, she says, were "the stylisation, the intensity and forcefulness, the fact that it wasn't driven by a naturalist aesthetic".
Like Serra, she believes that Picasso's stay in Gosol in 1906 was "very important", because it was "the break that gave him the opportunity to absorb sources he'd recently discovered more fully and develop ideas and themes outside the competitive environment of a major city. And being such a backwater – so unmodernised – it must have reinforced his well-established penchant for the primitive."

Indeed, Picasso's wider interest in primitivism helps to explain his fascination with Romanesque art. "Primitivism is a huge subject," says Cowling. "But, very broadly, primitivists had a sense that the 'primitive' was more authentic and purer than sophisticated Western art of the Renaissance and post-Renaissance periods. There's a strong element of anti-naturalism at its core, and also anti-academicism – so anything that was considered 'canonical' at the time was liable to be rejected by primitivists."

In other words, the Romanesque offered Picasso a revelatory model as he battled to dismantle and reassemble the great tradition of Western art. As Cowling puts it: "Picasso was never passive when it came to sources of inspiration – he got excited by new discoveries, but I think he was attracted to a new source because it chimed with something that already interested him, that meant something for his current work.
Alaister Sooke is a British Art Critic and journalist
Anton Foek is antonfoek.com
Read also: Pablo Picasso: The Change – His Muse and Mistress