Bernard de Wolff – Paintings
Subtle vibrations of pigments, deep flesh, and mental universe. In and out are embraced in this dense painting superbly matted. A bright light haunts its depths, sublimating appearances. Very close to abstraction, Bernard de Wolff's painting absorbs all contours. The landscapes or the bodies incant the expanse in the same moving and fusional way, scattered and quivering.

Each painting overflows with vital and sensual presence. A pasty and quivering effusion, crushed from within, magma of carnal earth and diffuse chaos, deafens from the depths of the canvas, where appearances are swallowed up. Eternal recommencement of the beginnings of painting.

Christian Noorbergen
Emily Bilman:
I would add that Bernard de Wolff's painting takes us back to modern impressionism with its play of light, a perception that forms and reshapes itself with the colors and figures quay-abstracted on the canvas."
Jean Marie Lienard:
More modestly, I would say that I find with happiness, in the abstract art of Bernard de Wolff, the symbols and signifiers that can sublimate certain poems, give them an additional dimension that never ceases to amaze me myself. Thank you, a big thank you to the Artist."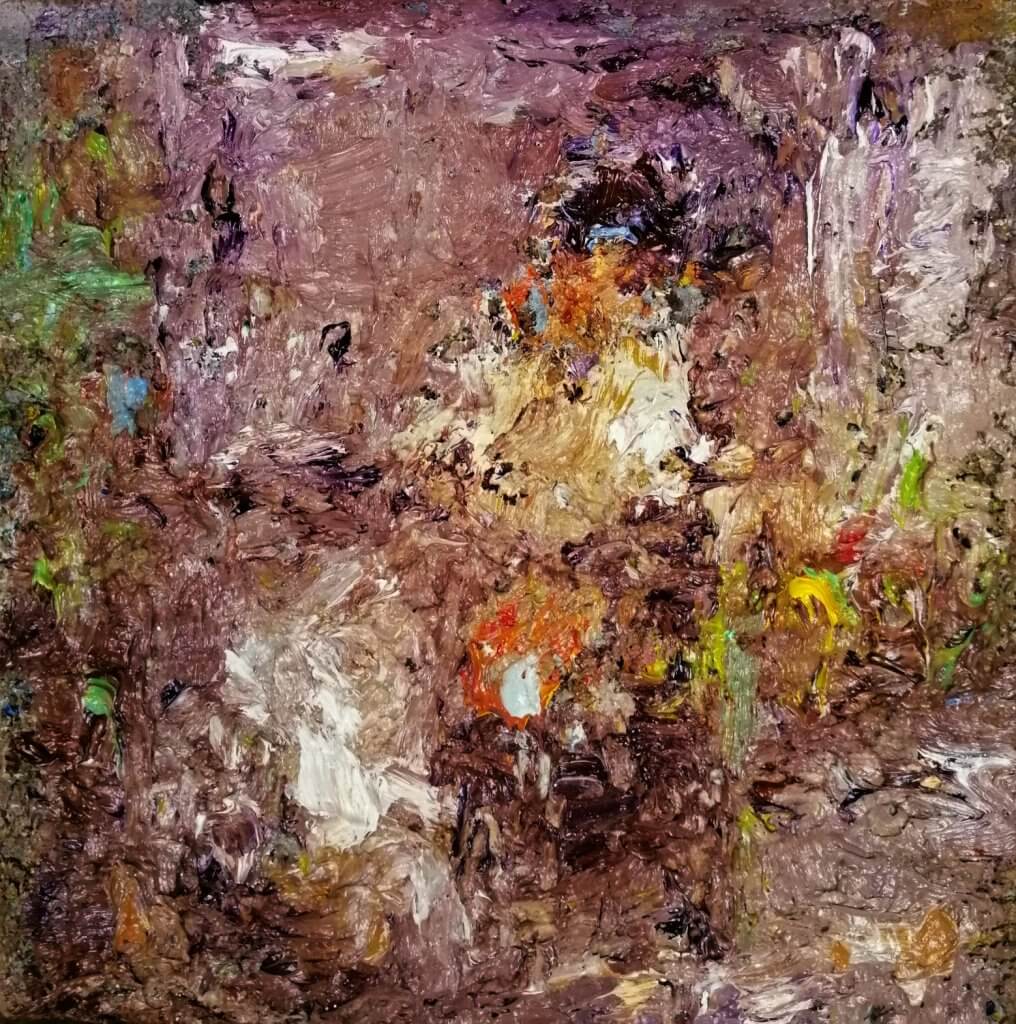 Danilo Santinelli:
Bernard de Wolff (1955) was a pupil of Eugène Leroy – of whom I spoke in the previous intervention – whose painting deeply marked him, his pictorial mixtures bear an evident trace. Also de Wolff moves between landscape and figure subjects, he too preferring the nude. Although in his painting everything tends to disappear in the material-chromatic magma, he does not present the dramatic tones of other authors of this same area, and certainly his mixture is not as cruel as that of Leroy. This is due to the richness of his palette which gives his paintings, especially the natural landscapes, an almost impressionistic aspect. In the figure works he seems to push more in a direction of crudeness, where the material magma makes the figures deflagrate depriving them, again, of a physiognomic identity."
Bernard de Wolff:
I have not yet been forgiven for not talking about my painting. I don't think. No intellectual double entendre, no narration, no dramatization. There is only color flowing sensually to consider; I do simple, ordinary things. There is a vague reference to Bergson whose conception of time I fight. There is no romanticism or expressionism here, just a form of impressionism mixed with lyrical abstraction, tachism and materiality, I work for the retina."
Dorotea Duval:
As you are a beautiful dandy, with a beautiful wife, both of a chic fou one tends not to mention that you are a wonderful painter, a serious professional, of a monolithic ethic, of a privileged intelligence, a great artist. Contemplating your work is a joy and a feast. Thank you for that."

I see your work on your FB page. And I really find it wonderful, deep, generous, with a thousand and one different semantic zones. Such a Dutch light, an extraordinary poetic sensibility. And, you are also beautiful, enchanting, inteligent, bon Vivant…. You are everything and more. And you're also very sexy, by golly!!!"
Jan Berghuis :
Ambient art is a development in the 21st century and has obvious links to impressionism, as well as the nul/nihl movement in the 60's and 70's. That experiment still goes on, and will not stop. Impressionism freed painters from classic rules and laws. It was about painting itself again, not so much representation of reality. Instead the inner feelings of the soul came to surface. Surely composition and rhythm played an (important) role, but painters such as Monet, Mancini and van Gogh were more interested in the emotions of the moment. Therefore Allaprima/ in-one-go painting was serving the final goal much more. Rough pencil-strokes and thick oil paint gave the display more swiftness and speed. With that, an apparent vagueness entered the art world. For decades, impressionism proved to be a commercial style. The impressionistic way of painting is a recognizable display for people to see new things again and again, all in the same picture. From William Turner to Antonio Mancini up to Bernard de Wolff there are surely developments. The latter being a contemporary Dutch impressionist. His paintings consist out of thick paintclods in which one can vaguely witness a figure. These distorted images are closely related to Ambient art.
James Kieley :
The prophecy is fulfilled, because of Master Artist, Bernard de Wolff, Impressionism has risen again!This handsome canvas exhibits a variety of beautiful deep crusty textures, that is exquisitely conjured by the artist, by adding layer after layer of broken color on the surface of the canvas! Bernard de Wolff creates a most memorable rendition , his landscape features a mottled blue grey sky, accented by a smoldering rugged terrain, with heavy impasto shrubbery as a backdrop!
Louise de Chiron Charrault:
I love the way light is analyzed to be
I love the way light is analyzed to be sublimated in each painting. I don't try to understand
to understand the rendering of the motif, which is sometimes rather confusing
of St Germain, but I appreciate the colors, the nervous and
nervous and generous touch.
Ishrath Humairah:
What happens when you come across a painting that suddenly seems to look unusual and arresting at the same time? Your heart skips a beat and you tend to take a closer and longer look. You know it is a landscape but there is more to that. A few minutes later, you are in love with its colors, depth, texture, story and strokes. This happened to me when I chanced upon Bernard De Wolff's portfolio of sand textured oil paintings that ranged from landscapes, figurative, abstract, nudes, cityscapes and more. His unifying thread was sand mixed with oil colors, giving rise to sensual and touches-me kind of textures. Bernard's method is simple. Oil + sand + canvas = magic

Having gone crazy over his portfolio, I had the wonderful opportunity to interact with him and discuss his works. The more he told spoke about the sand in oils, the more intrigued I grew.