Seu Belo, Watchmaker in Flamengo
Rio de Janeiro, Monday, January 25, 2021 – Somewhere in Flamengo, within walking distance of the beach, you'll find the Largo do Machado, a square with majestic royal palm trees and the church that dominates the cityscape. Where retired men play dominoes. Where flower and plant stalls dominate on the markets. And on Saturdays the bookstores. Right next to the supermarket is a mall and at one of the first stores, on the right hand side is a glass door, with a watch repair shop behind it. You have to look very good to see it.
It says on the handwritten message glued to the door, that the shop will not open until 10am, but in practice that means 10.30am.
Seu Belo, the owner, is the oldest and probably the best watchmaker in town. An amiable man in his eighties who, if he is there, has all the time to listen about problems with watches, clocks and the like. He cannot make any promises, nor does he guarantee his finalized work.
"You don't have to get a guarantee, because the watch I repair is just good and there is nothing to criticize about it," he says in his shop, which is barely larger than 3 square meters.
Even when I'm the only client in the doorway, the store is full. There are prints and framed newspaper clippings on the wall and sometimes an old clock that has never been collected.
"I'm all the way from Petrópolis," he says, "that's one and a half almost two hours from here. That's quite something for a man my age. '
He used to live around the corner here, in Rua Paysandu, but due to lack of security he has given up that convenience, although he does not know how much longer he will continue to commute. It's very exhausting.
"I'm 88 and I'm running out of energy," he says, "I immigrated with my parents from Portugal to Brazil in the thirties and since my earliest childhood, actually since I can remember, I've been repairing watches. As my father did. I've handled the nicest ones, but these days it's usually something for a new battery or something simple and modern. There is little or no fun with that anymore '.
He invites us to lunch at the mall and when that is over and he has looked at my watch problem, he says I can come back in a week to pick it up.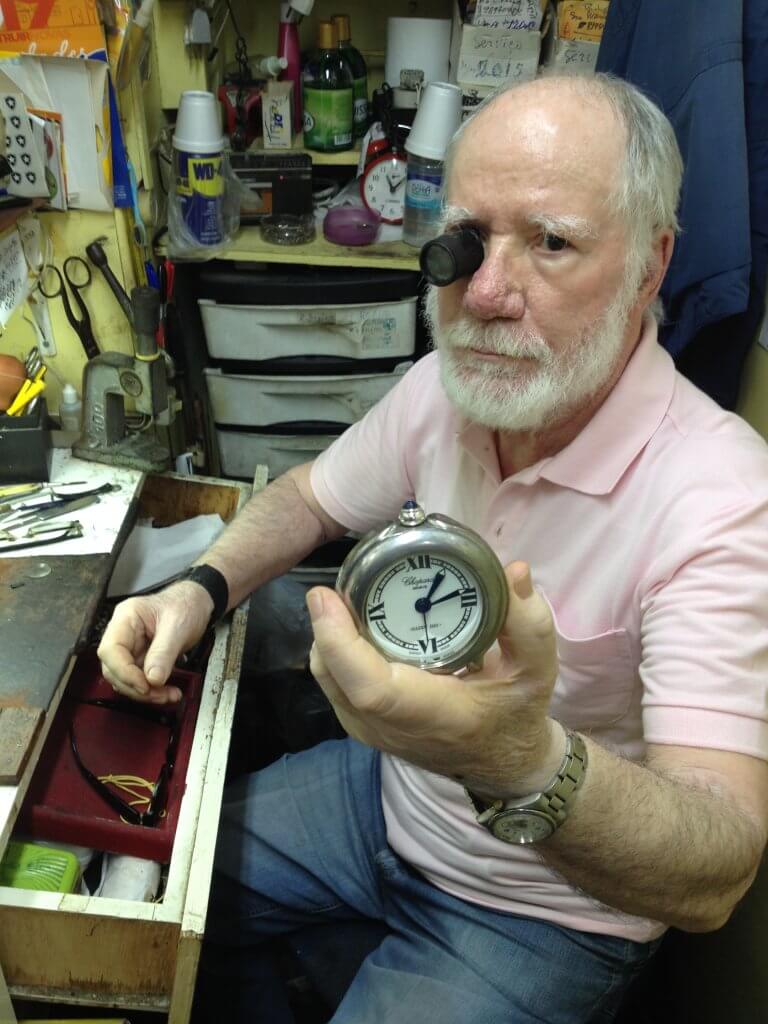 The following week the shop is closed. When he's back in town he asks us to get back after a week or so. The watch will not be finished the following week.
After a month I get my watch completely repaired. When I ask him what the costs are, he says there are none. It is free. Because that's the way he likes to work.

AF. 24 January 2021